DESIGN BUILD FILTER PRESS
Custom Built Filter Press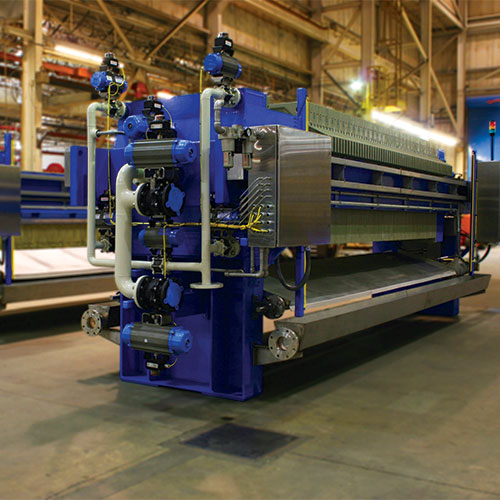 Companies from various industries partner with us because of our experience, attention to detail, thorough documentation, highly competitive pricing, expert integration and installation, and high level of ongoing service and support. We regularly win our Clients' trust and their business from larger over-priced competitors. The Palmetto Wastewater Solutions tailor built filter presses are designed to provide long service life, simple operation (e.g. included automatic plate shifters) and excellent liquid/solid separation. These filter presses are available in a multitude of sizes, and
reliably produce filter cake with a solids content of 35 to 75 percent. Palmetto Wastewater Solutions manufactures filter presses with capacities ranging from 1 to 700 ft3 (0.02 - 19.82 m3). Plate sizes range from 470 x 470 mm to 2,000 x 2,000 mm, with cake thicknesses of 25, 32, 40, and 50 mm available. The variety of filter press sizes available ensures that Palmetto Wastewater Solutions can build a filter press to suit any sludge dewatering requirement.
Manufactured and designed at one of several high quality Palmetto Wastewater Solutions manufacturing facilities, the filter presses are available with levels of automation ranging from fully manual operation to automated filter presses that require minimal operator input.
FEATURES:
Wide range of sizes and
configurations
100 or 225 psi (690 or 1,550 kPa) feed pressure rating
Stainless steel sidebar caps
Gasketted and non-gasketted polypropylene filter plates
Integrated electric/hydraulic or air/hydraulic operating systems
Rugged construction
Extensive technical support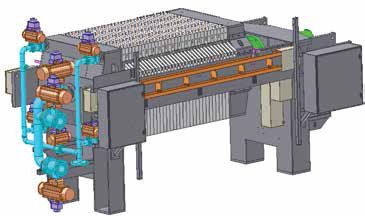 AVAILABLE OPTIONS
Automatic plate shifters
Air blow-down and cake washing configurations
Filtrate leakage collectors (bomb
bay doors)
Automated cloth washing systems
Automated valves and manifolds
Light curtains and safety shutoff
alarms
PLC automation to any
specification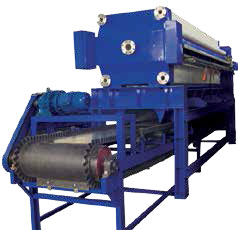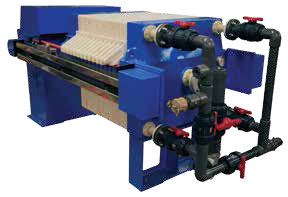 Palmetto Wastewater Solutions can provide a solution for any dewatering need. In addition to filter presses, complete filter press batching systems are also offered, which range from small pilot plants to complete material handling systems for heavy industry.
APPLICATIONS
Power plants: gypsum and fly ash dewatering
Municipal wastewater treatment
Food and beverage processing
Chemical Processing
Textiles
Pulp and paper
Mining and minerals
Oil and gas
Refining and petrochemical
Industrial wastewater
Paint manufacturing
Grease trap waste treatment
Pharmaceuticals
Electroplating
MATERIAL HANDLING
Palmetto Water Solutions filter presses are available with the following solids handling systems:
Screw conveyors
Belt conveyors
Rake conveyors
Elevated mezzanines